IMPORTANT NEW USER NOTICE
ONLY CHILDREN THAT HAVE BEEN ON OUR CAMPS OR COURSES CAN SIGN UP TO THIS FORUM.
TO REGISTER AS A ''NEW USER'' PLEASE ENTER YOUR FIRST NAME AND FIRST INITIAL OF YOUR SURNAME AS YOUR USER NAME FOR CHILD PROTECTION PURPOSES THANK YOU!!
IF A FOOTY FEVER PARENT WOULD LIKE TO REGISTER THE SAME RULES APPLY, YOU WIILL BE ASKED TWO SECURTIY QUESTIONS BY E-MAIL BEFORE YOUR ACCOUNT IS ACTIVATED!!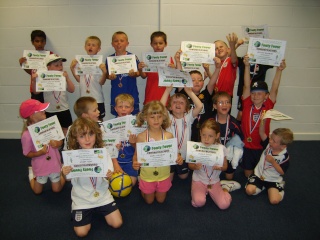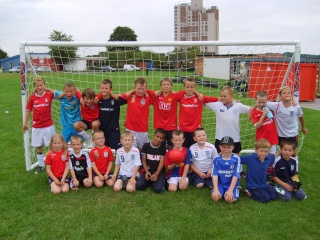 THANKS TO ALL 426 KIDS THAT ATTENDED FOOTY FEVER THOUGHOUT 2010!!
---
LATEST COURSE NEWS!!
DON'T LEAVE IT TILL THE LAST MIN, LET FOOTY FEVER SOLVE ALL YOUR "CHILD CARE"
ISSUES THIS HALF TERM WITH OUR FANTASTIC FUN AND FOOTBALL COURSES.
CLICK ON LINK BELOW TO DOWNLOAD + PRINT BOOKING FORM
OR
YOU CAN NOW BOOK BY DEBIT/CREDIT CARD ONLINE USING OUR NEW PAYPAL SYSTEM
PLEASE "BOOK EARLY" AS LOW NUMBERS OF CHILDREN MAY RESULT IN COURSES BEING CANCELLED
DUE TO BOOKING FORMS NOT BEING IN BY DEADLINE DATES!!
STUCK FOR CHILD CARE THIS XMAS??
NEED TO FINISH OFF THAT LAST MIN SHOPPING??
£10 PER DAY(SAVING £6 IF YOU BOOK BOTH DAYS)
+ ONE HOUR BONUS, OUR XMAS COURSE IS TO END AT 4PM INSTEAD OF 3PM EACH DAY
YOU MUST BOOK+PAY BEFORE 10TH DECEMBER TO GAIN THIS FANTASTIC OFFER

PLEASE GO TO OUR MAIN WEBSITE AT

FOR ALL OUR LATEST XMAS 2010 COURSE INFO!!
IMPORTANT INFO
If their are any weather problems during our Courses we will provide the children with fun games and activities indoors.
**Footy Fever are closed during Bank Holidays, Prices are set regardless of four/five day course
---
FOOTY SCHOOL NEWS!!
We currently run courses in the following schools...
Every MONDAY - Dovecote primary school

Every TUESDAY - Whitegate primary school
Every TUESDAY - Glapton primary school

Every WEDNESDAY - Gotham primary school

Every THURSDAY - Round Hill primary school
Every FRIDAY - Riverside primary school

ALL OUR AFTER SCHOOL COURSES WILL RUN BETWEEN


8TH NOV - 17TH DEC 2010 FOR 6 WEEKS THIS TERM!!
IF YOU HAVE A GENERAL ENQUIRY PLEASE CONTACT US BY EITHER:
---
FOOTY CLUB NEWS!!
Xmas Half Term Course dates NOW AVAILABLE!!! You can now book our half term courses online by Debit/Credit card
via PayPal

Goalkeepers Academy to RE-START Feb 2011 every Wednesday between 530pm-630pm at Clifton Playing Fields. Ring to book!!

Mini Development Centre to RE-START Feb 2011 every Wednesday between 530pm-630pm at Clifton Playing Fields.
Ring to book!!
Mini Tots Club 3-5yrs cancelled at Dovecote School till further notice!!




FOOTY HOTLINE - 0115 8461692 E-MAIL - info@footy-fever.co.uk